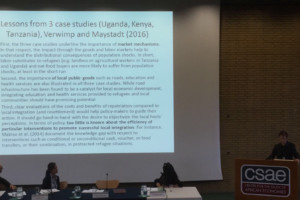 Migration is one of the topics high on the development agenda. In our first keynote session of the CSAE Conference, Tuesday Reitano (Global Initiative against Transnational Organised Crime), Isabel Ruiz (University of Oxford) and Phillip Verwimp (Université Libre de Bruxelles) will share their views on migration and development and in particular on what policies should be pursued with respect to refugees coming from African countries. Stefan Dercon (CSAE) will be leading the discussion.

Tuesday Reitano is Deputy Director of the Global Initiative against Transnational Organized Crime and a senior research advisor at the Institute for Security Studies in Pretoria, where she leads five organized crime observatories in Africa. Tuesday was formerly the director of CT MORSE, an independent policy and monitoring unit for the EU's programmes in counter-terrorism, and for 12 years was a policy specialist in the UN System, including with the UN Development Programme (UNDP); the UN Development Group (UNDG); and the UN Office on Drugs and Crime (UNODC). In this time, she has amassed a wealth of experience in fragile states and development working both with states, civil society and at the community level to strengthen resilience to transnational threats, promote sustainable development and the rule of law. Tuesday has authored a number of policy orientated and academic reports with leading institutions such as the UN, World Bank and OECD on topics ranging from organized crime's evolution and impact in Africa, on human smuggling, illicit financial flows, and the nexus between crime, terrorism, security and development.
Tuesday is the lead author of a forthcoming OECD flagship publication: Illicit Financial Flows: Criminal Economies in West Africa, as well as the co-author of Migrant, Refugee; Smuggler, Saviour, a book published by Hurst on the role of smugglers in Europe's migration crisis. She holds three Masters Degrees in Business Administration (MBA), Public Administration (MPA) and an MSc in Security, Conflict and International Development (MSc). Tuesday splits her time between Geneva, Switzerland and Beirut, Lebanon.
Isabel Ruiz is the official Fellow and Tutor in Economics at Harris Manchester College at the University of Oxford where she teaches in the Philosophy, Politics and Economics (PPE) and Economics and Management (E&M) programmes. Her research focuses on topics related to international capital flows (foreign direct investment and workers' remittances) and international migration with an emphasis on forced migration. Dr. Ruiz is one of the coordinators of the "Economics of Forced Migration" project (www.econforced.com) and leads the project: "The gender impacts of hosting refugees" funded by UNU-WIDER. She was one of the researchers in the "The Labour Market Impacts of Forced Migration" project funded by the UK Department for International Development (DFID) and the Institute for the Study of Labour (IZA). Isabel is also an Associate at Oxford's Latin American Centre (LAC) and the Department of International Development (ODID). Her recent publications include "The Labor Market Consequences of Hosting Refugees" in the Journal of Economic Geography (2016).
Philip Verwimp is Associate Professor of Development Economics at the Université Libre de Bruxelles where he is a Fellow of ECARES, the European Centre for Advanced Research in Economics and Statistics. The focus of his research is the micro-level analysis of violent conflict. He analyses the causes of violent conflict and its effects on health and nutrition, trust and social behaviour as well as forced displacement. He has done extensive field work in Central Africa and he is currently leading a programme of longitudinal data collection and impact evaluation in Burundi.
The session starts at 16.30 UK time and will be live streamed on our website. You can also follow the debate on Twitter, the conference hashtag is #oxcsae2017. We will also be tweeting ourselves, from our @Oxford_CSAE twitter account.