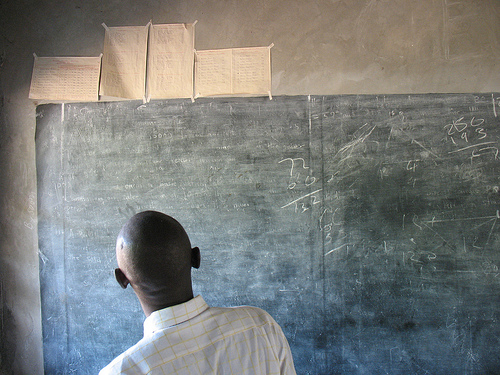 Everyone complains about 'failing' state schools, but some countries are entitled to more of a gripe. State school teachers in a lot of countries just don't show up for work, students in these schools can't add and multiply despite years of schooling, and it's really difficult to get rid of the absent teachers. So what do you do?
One way to improve learning that people have been writing about (see Duflo et al on Kenya or Kingdon and Atherton on India) is to hire more contract teachers. Hired on fixed-term contracts and without public sector job security (or access to public sector unions), these teachers are more likely to show up to school and their students do better. The problem is that this story just doesn't seem to hold up consistently: in a large RCT in Andhra Pradesh by Muralidharan and  Sundararaman, students didn't do any better with contract teachers than regular teachers once reductions in class size were accounted for, even though the contract teachers were less likely to be absent from school. Also, in a recent RCT in Kenya by Bold et al, contract teachers do out-perform regular teachers, but only if they were hired and paid by NGOs and not the Ministry of Education!  Are contract teachers just one in a line of hyped interventions that seem to have very limited generalizability?
Not really: across all these studies, contract teachers never do worse than civil service teachers, despite being younger, more inexperienced and more likely to not have had formal teacher training. In value-for-money terms, each contract teacher is at least four to five times as productive as a regular public service teacher: in Kenya, the average pay of a civil service teacher is $261 per month compared to $56 for a contract teacher. The problem is not that the contract teachers are being paid too little (they get paid salaries comparable to private school teachers in these countries) but that public sector employment just has a huge premium attached. In the Andhra Pradesh study, the authors present this graph of the salary distributions of each type of teacher: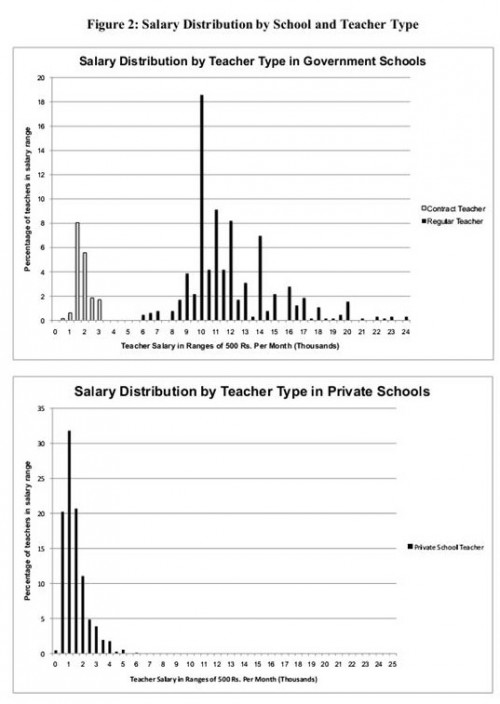 In their own words: "private school teacher salaries are even lower than those of contract teachers and so much lower than regular teacher salaries, that there is almost no common support in the two distributions."
The contribution of the Bold et. al. paper is to show that many gains in RCTs should be accepted only with caveats  – the findings may not generalize even in the same contexts if the implementation differs a bit – something that's been talked about for a while but it's nice to have proof of.  However, it shouldn't really change our priors about contract teachers: governments don't hire them because they're better at teaching, they hire them because they're cheaper and just as good– and nothing that has come out of any of these papers changes that.