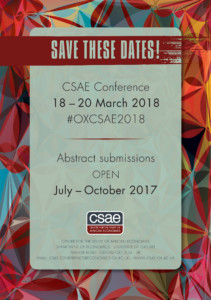 This year's CSAE Conference was a great success, with more than 445 participants from over 35 countries, 109 sessions (with three plenary sessions) and 335 papers presented. We are therefore glad to already announce next year's edition, which will take place from 18 to 20 March 2018.
The call for papers will be sent around in July and you will be able to send in your papers between July and October 2017. Please make sure to keep an eye on our website, or check our Twitter account. Next year's hash tag will be #OxCSAE2018.
We hope to see you next year!