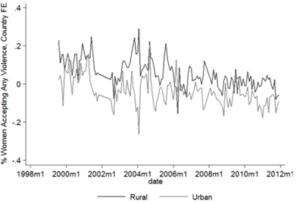 In analyses of violence, domestic violence is often neglected, even though it is one of the most common forms of violence, as was argued by Anke Hoeffler earlier on our blog. At the CSAE Conference several papers were presented looking at the causes of domestic violence as well as at the attitudes towards intimate partner violence. Claire Cullen, doctoral student at the Blavatnik School of Government, gives an overview.
The war in your head: does exposure to sexual violence create domestic violence?
Wolfgang Stojetz presented a paper (joint with Tilman Brück) examining whether Angolan soldiers' wartime exposure to sexual violence increases their propensity to commit domestic violence in the long term (only an abstract is available). The authors exploit a natural experiment in men's exposure to wartime sexual violence based on their year of birth and activity during periods of escalated sexual violence against civilians. Using a two-stage least square instrumental variable approach, they conclude that wartime exposure to sexual violence significantly increases Angolan Civil War veterans' propensity to commit physical (but not sexual) domestic violence more than a decade after the end of the civil war.
The authors suggest that the most likely mechanism is soldiers being conditioned into 'gender-based violent practice', and that this effect is psychological and persistent. They rule out other mechanisms suggested in the prevailing economic models of domestic violence including intra-household bargaining power and cultural norms.
This paper fills an important gap in the literature on the causes of domestic violence in post-conflict states. Few studies have undertaken robust causal analysis on the role of previous exposure to sexual violence. The paper also contributes to the evidence on the often underexplored psychological and individual-level risk factors for domestic violence, which may be particularly important in conflict-affected and post-conflict states.
Women's willingness to accept intimate partner violence: a global comparison
Anja Tolonen presented joint work (with Anttila-Hughes, Lee, & Stopnitzky) analysing Demographic and Health Survey data on over 700,000 women's attitudes towards intimate partner violence from 38 countries. The authors estimate a linear probability model to study the determinants of a woman reporting that domestic violence is justified in some circumstances. Using their unique global dataset, the authors' findings support those of a number of other cross-country studies and theoretical models on domestic violence. They find reductions in violence acceptance with increasing education, wealth, and age, and reduced acceptance with reduced fertility. Urban women are significantly less likely to be accepting of violence than women living in rural areas.
The authors also study the impact of an arguably exogenous rainfall shock on violence acceptance, finding that low rainfall is associated with increased acceptance of violence. This result is largely driven by rural respondents, where a 1 standard deviation decrease below mean rainfall is associated with a 1.87 percentage point increase in the likelihood that a respondent is accepting of domestic violence. Their results suggest that women's willingness to accept domestic violence is strongly elastic to variation in income and measures of women's empowerment.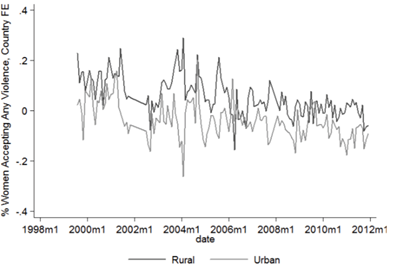 Urban and rural acceptance of wife beating
Is there a relation between access to electricity and intimate partner violence?
Maximiliane Sievert used Demographic and Health Survey data from rural areas in 22 sub-Saharan African countries to study whether electrification reduces women's acceptance of intimate partner violence, potentially through the channels of increased media access and higher female labour participation. The author employed region difference-in-difference and propensity score matching approaches. While Sievert found that women in households with electricity report lower levels of acceptance of intimate partner violence, the identification strategies employed did not suggest a causal relationship between electricity access and acceptance of intimate partner violence.
This blog presents a selection of papers presented at this year's CSAE Conference. The full programme is available here.
Claire Cullen is a DPhil student in Public Policy at the Blavatnik School of Government. She worked on gender-based violence prevention programmes in Rwanda and the Democratic Republic of Congo.